Cleaning Diffusers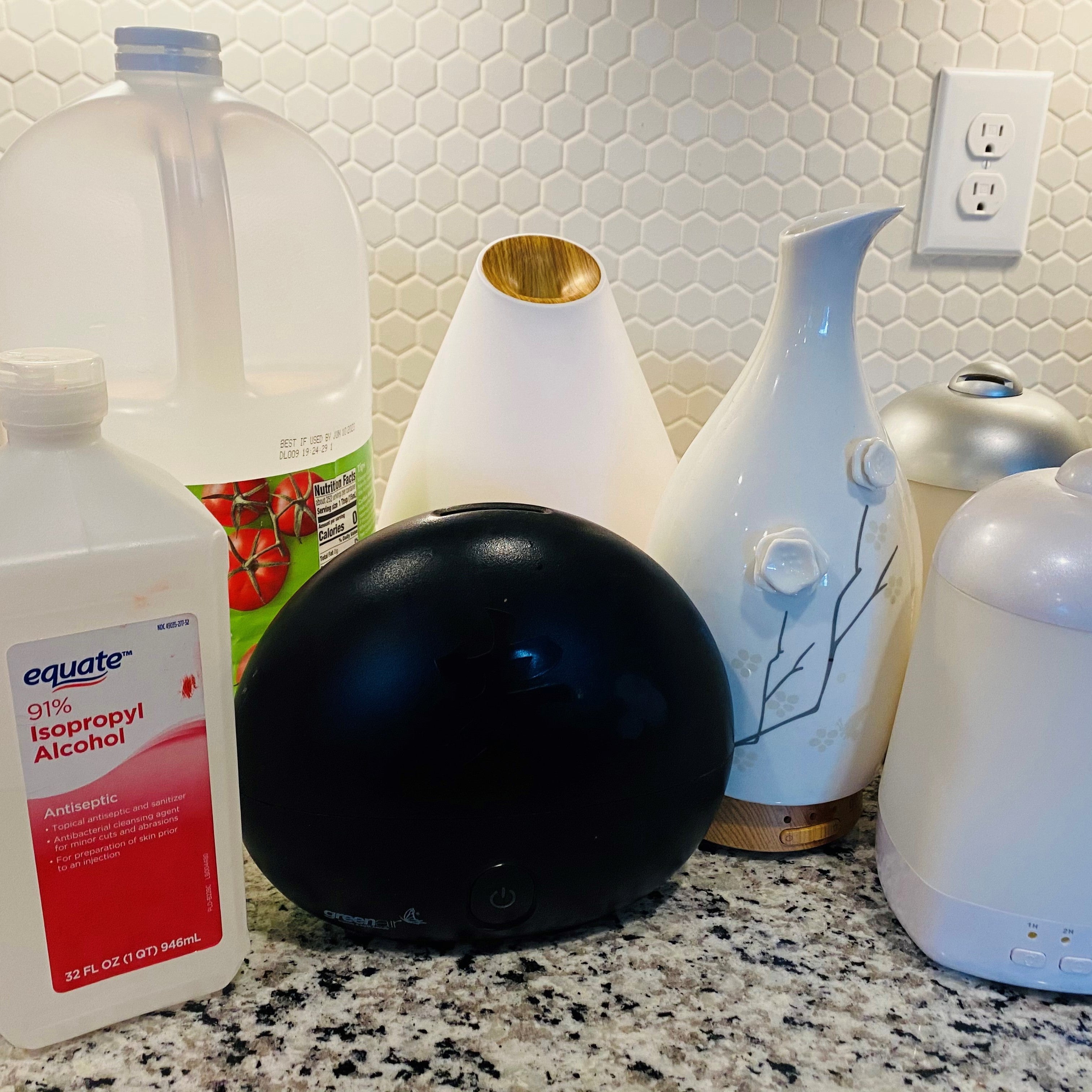 Do you diffuse oils? If so, you know the benefits of these powerhouse machines. If not, check them out! Diffusers are a great way to safely use essential oils, even for little ones. And if you're uncomfortable using EOs topically, diffusing is the way to go! You can provide your whole household with the potent benefits from EOs using just a few drops.
While diffusers are amazing, they do need to be cleaned. Depending on how often you use your diffusers, monthly cleanings are usually sufficient. If you use your machines daily, every 2-3 weeks may be better. Then every 3-4 months, you can also do a deep cleaning. These cleanings ensure that your machines will keep working in tip top condition to provide your family with the benefits you've come to expect. Without regular cleanings, your diffusers may make funny noises, not produce as much vapor, or leave too much oil residue on the ceramic disc, all of which will result in a shorter lifespan for your beloved machine.
To do a monthly cleaning, simply follow these steps:
1. Unplug and pour out any remaining oil/water in the water reservoir. Rinse it with warm tap water.
2. Fill the water reservoir halfway with plain white vinegar. Fill to the top with boiling water (make sure not to submerge your diffusers in water). Let the diffuser set for 2-4 hours (or until you have time to scrub them out).
3. Pour out the water/vinegar mixture. Fill with just a bit of boiling water. Use the included brush or an old toothbrush to scrub the inside of your diffuser. Be VERY careful when brushing the ceramic disc in the center of the diffuser. This is the piece that vibrates and causes the oils and water to vaporize. If you push too hard on it, it could break or damage it.
4. Wipe dry with a soft cloth and let dry for 12 hours. Use as normal.
To do a deep clean, follow these steps:
1. Follow steps 1-3 from the monthly cleaning.
2. Using rubbing alcohol, soak a Q-tip. Use the Q-tip to remove any residue that is inside the diffuser (usually a brownish color). You may need more than one Q-tip.
3. Using another soaked Q-tip, GENTLY clean the ceramic disc in the center of your diffuser. 
4. You can also use rubbing alcohol to remove any residue on other parts of your diffuser.
5. Rinse with warm water. 
6. Let your diffusers and all parts dry for 24 hours. Use as normal.
We hope this helps your diffusers last a long time and work well daily! If you'd like to try diffusing, but don't know where to start, click HERE for some of our favorite diffusers that are low maintenance and use tap water for easier use. 
---
Leave a comment