Epic Colorado Snow Storms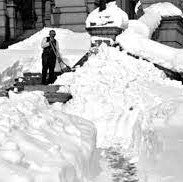 Are you ready for the snow this weekend? We are! This winter has been so dry and we need the moisture for the summer ahead (and to prevent fires like we had last year!). So bring on the snow!!
With snow on its way, are you thinking about past storms? Ones that were crazy and left everyone digging out for days? Here's a list of 5 epic storms that have hit our beautiful state:
1. March 2003 - Heavy snow fell for 3 days and Denver saw a total of almost 32 inches! The foothills had more than 80 inches! 
2. October 1997 - DIA had just opened when this storm hit and brought nearly 22 inches to welcome the new airport. Thousands of travelers were stranded with no hotel nearby. The neighborhood of Nor'wood saw 9 foot high drifts!
3. Christmas Eve 1982 - This storm dumped over a whopping 23 inches on Denver in just a day! High winds accompanied the storm, producing huge drifts.
4. November 1946 - This storm was one of the longest in CO history. Snow dumped for over 70 hours, bringing with it over 30 inches of snow. Streetcars couldn't run so the city basically shut down. 
5. December 1913 - The biggest blizzard in history came when meteorology wasn't a developed science. That meant that communities were caught completely unaware and unprepared. This storm lasted a few days and dumped over 45 inches in Denver, which is still a state record!
Are you ready for this storm? We'll be watching movies, reading books, snuggling with blankets by the fire and diffusing all these scents. Enjoy your weekend!
---
Leave a comment