Homemade Granola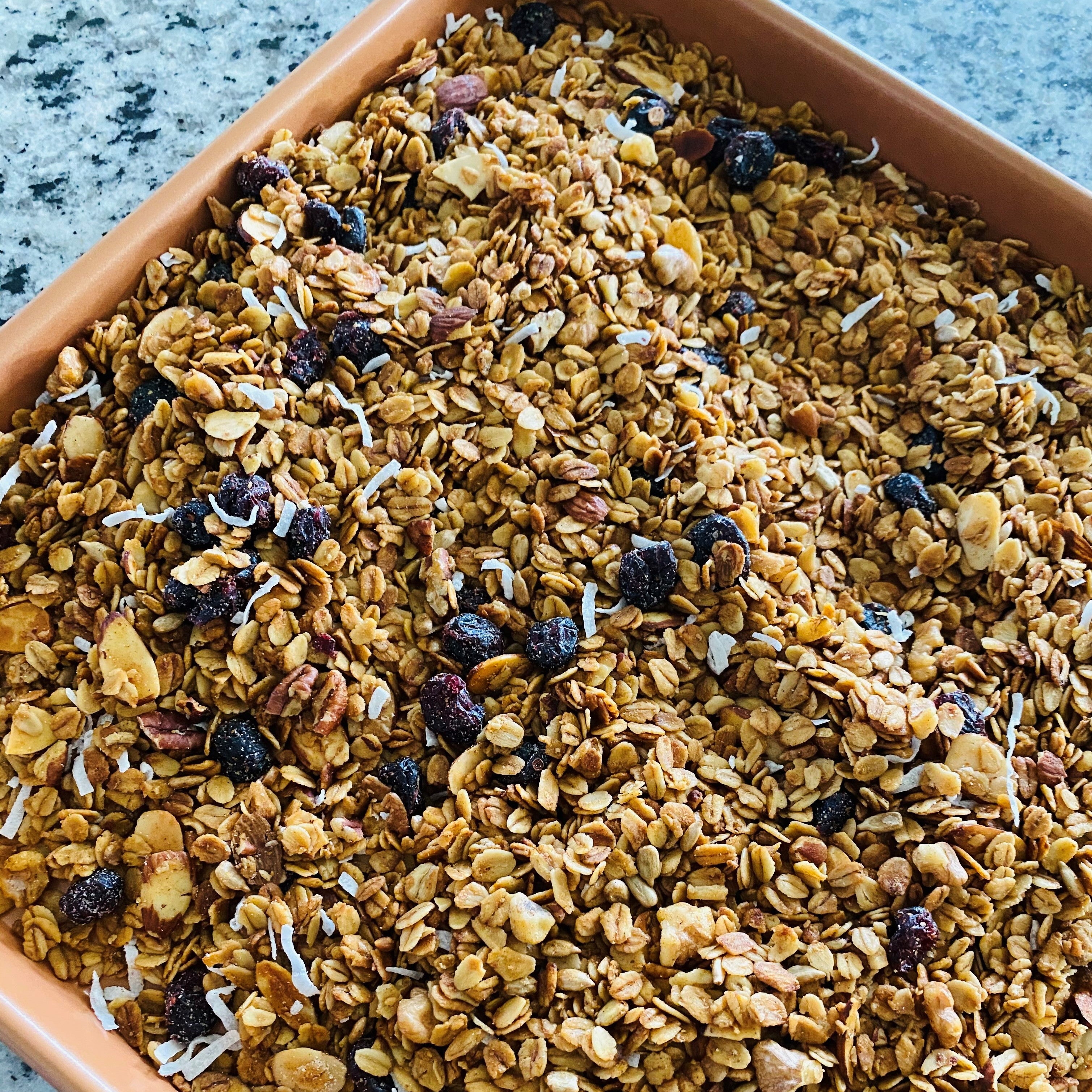 Are you a granola fan? Do you eat it like cereal or on top of yogurt or an acai bowl? Everyone in our house LOVES granola. Eaten as cereal. Or plain. Or on yogurt or even ice cream. So much so that it disappears like snow on a summer day. And granola's not cheap! Plus, most store bought brands have all kinds of preservatives and ingredients we don't want to be eating. So I did some digging and found a base recipe that seemed pretty good from All Recipes. 
Our first few batches were meh. But like the ladies in my family taught me, I tinkered. I added a little of this and removed a little of that and finally came up with a recipe we love (and it's WAY more affordable). We change it up every time and always love the result. My hubby loves it so much that he is actually protective over it and firmly labels a container "Daddy ONLY!!! NO KIDS!!!" Don't worry, the kids get their fair share too.
The best part about this recipe? You can add, substitute, or remove any of the add-ins. Don't like walnuts, use cashews. Don't like sunflower seeds, omit them. Want a different dried fruit, choose it! Want all pecans and no other nuts, use more of them than the recipe calls for. Want it less sweet, add less sweeteners. You can tinker until you love it too! Below is our recipe - enjoy!
Amour Natural's Granola 
Ingredients:
8 cups rolled oats
1 cup ground flax seed (optional) - we omit half the time
1 cup sunflower seeds (optional)
1 cup slivered almonds
1 cup finely chopped pecans
1 cup finely chopped walnuts or cashews 
1 ½ teaspoons salt (optional)
½ cup brown sugar
¼ cup pure maple syrup
1/2 - ¾ cup raw honey (depends on your preference of sweetness)
3/4 cup vegetable oil
1 tablespoon ground cinnamon
1 tablespoon vanilla extract
2 cups dried fruit of choice (raisins, cranberries, blueberries) (optional)
1/2 cup coconut (optional)
Directions:
1. Preheat the oven to 325 degrees F (165 degrees C).
2. Line two large baking sheets with parchment.
3. Combine the oats, flax seed, sunflower seeds, almonds, pecans, and walnuts/cashews in a large bowl.
4. Stir together the salt, brown sugar, maple syrup, honey, oil, cinnamon, and vanilla in a saucepan. Bring to a boil over medium heat. Pour over the dry ingredients and stir to coat.
5. Spread the mixture out evenly on the baking sheets.
6. Bake in the preheated oven until crispy and toasted, about 25 minutes. Stir every 10 min. Once the granola starts to brown, keep a very close eye on it as it burns fast.
7. Once it's toasted, remove from the oven. It'll still feel soft, but will crisp up as it cools.
8. Once it's cooled, add the dried fruit and coconut. Stir to combine and store in an airtight container. 
Did you try the recipe? Do you love it? What did you change about it?
---
Leave a comment